Press Release from WaterPoloEngland.org – 6th November 2017..
England's Under 21 squads for the EU Nations are out! - November 6, 2017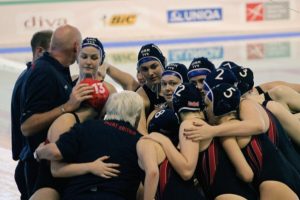 The countdown to our EU Nations Under 21 competition is in full swing, with less than 2 weeks until our women and men go head to head with their European counterparts at Manchester Aquatics Centre.
Eamonn O'Rourke, the Organising Committee chair, said, 'This is an exciting time for water polo in England, as well as in Manchester, and we welcome you to the event and hope you have a great experience and that you enjoy our great city.'
Both of our England teams will be up to 2 years' younger than their opposition, as the under 19s teams are in preparation for their LEN European championships next year, and so the competition will be tough!
The England women will be competing against the Czech Republic, Scotland and Wales, while the men take on Denmark, Scotland and a wildcard entry – the City of Manchester senior men's team.
England women will be the first of our teams to play when they take on Wales at 10:15 on Saturday morning with the England men's team playing later at 13:00 against Manchester. The latest full schedule is available here
Tickets are limited, and will available on a first come first served basis at the MAC reception on the days. Entry is £10 (adults) and £2 (children) on Saturday, with entry half price on Sunday.
Many congratulations to the following athletes who have been selected for the 2017 England women's and men's EU Nations U21 squads:
MEN'S SQUAD
Harrison Barker-Smith, Connor Carpenter, Tom Hutchens, Matthias Madden,      Thomas Manley (GK), Aril Pandya (GK) – Watford Water Polo, Michael Patterson John Pratt, Benjamin Ray, Benjamin Riding, James Spencer-Boyce, Ben Stephenson, Isaac Wass, Christopher Sturtevant.
WOMEN'S SQUAD
Sophie Jackson (GK), Niamh Campbell-O'Donnell (GK), Naya Patel (GK)               Annie Clapperton, Robyn Greenslade, Molly Boniface-Ashton, Emily Pyper              Katy Cutler, Steph Whittaker, Emmie-Rose Eastwood, Lily Turner, Amelia Peters,   Emily Watkins, Ella-Louise Jones, Jordan Parsons
Well done on your selection and good luck guys!